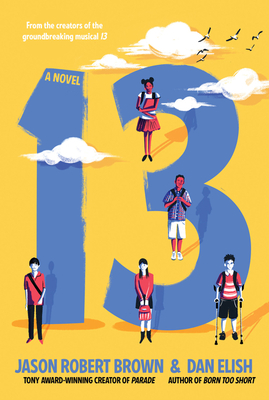 13: A Novel
Publication Date:
August 2nd, 2022
KD's Books
On hand, as of Dec 4 12:51am
(Social Science )
On Our Shelves Now
Description
The paperback edition of the novel based on the groundbreaking musical by Jason Robert Brown and Dan Elish, 13, a story about friendship, fitting in, and what it means to turn thirteen. Now a movie-musical streaming on Netflix!
"No one said becoming a man was easy."
Evan didn't expect relevant life advice from Rabbi Weiner, who looks so old that he must have gone to yeshiva with Moses. But wondering what it means to become a man is the least of Evan's problems.
After being uprooted right before his thirteen birthday from New York City to Appleton, Indiana, he's more focused on using this fresh start to find the right friends to invite to his bar mitzvah. Because this is his chance to get in with the popular kids—the cool football players and pretty cheerleaders.
But it's the weird kids who welcome him, like his nerdy neighbor Patrice and Archie, whose crutches and muscular dystrophy make him an easy target for bullying. Evan doesn't want to be laughed at for being different. He can pretend to be like the cool kids; he's sure he can.
But if you spend all your time pretending to be someone else, who do you become?
In this story of acceptance and friendship, Evan prepares for his bar mitzvah, grapples with his father's affair, and learns from his rabbi, all the while presented with various images of what it means to be a man. While he struggles to fit in with the popular boys at school, he eventually learns that being cool is not as important as being a good friend—and a good person.
With relatable humor and accessible language, and at a consumable length, this book is perfect for all tweens and especially boys looking for a relatable read.
An adaptation of the Broadway musical that inspired 13: A Novel is now streaming on Netflix. Jason Robert Brown returned to compose new music for the show, and the cast includes Rhea Perlman, Josh Peck, Debra Messing, and Peter Hermann.
Praise for 13: A Novel
"Accented with humor. Evan realizes the moral edges of both his own and others' behaviors, and the concept of becoming a man is presented through both his actions and efforts to write his bar mitzvah speech . . . a fine story with characters that [feel] real."  — Booklist
"This tale of middle-school peer culture is . . . handled especially well in this tie-in to the musical. The pace is quick, the humor broad and the life lessons spelled out clearly."  — Kirkus Reviews