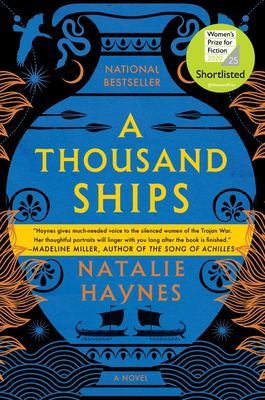 A Thousand Ships: A Novel
Publication Date:
November 9th, 2021
Publisher:
Harper Perennial
From The Aeneid to The Iliad and The Odyssey, classic stories of the Trojan War are implicitly reliant on the role of women, however reticent they are portrayed. Finally — finally! — we have a retelling that does women, girls, and goddesses justice. Through the perspective of women in various places and times during the war, Natalie Haynes constructs an epic collage that follows the warriors, refugees, oracles, muses, wives, and daughters of Troy, Greece, and beyond in one of the most famous conflicts in world history.
February 2021 Indie Next List
Returning to the Greek myths, this is a feminist retelling of the Trojan War as seen through the women who lived it. It incorporates the classical story with a fresh perspective of the characters. Highly enjoyable.
Winter 2022 Reading Group Indie Next List
Description
NATIONAL BESTSELLER
An NPR Best Book of the Year
"Gorgeous.... With her trademark passion, wit, and fierce feminism, Natalie Haynes gives much-needed voice to the silenced women of the Trojan War."—Madeline Miller, author of Circe
Shortlisted for the Women's Prize for Fiction, a gorgeous retelling of the Trojan War from the perspectives of the many women involved in its causes and consequences—for fans of Madeline Miller.
This is the women's war, just as much as it is the men's. They have waited long enough for their turn . . .
This was never the story of one woman, or two. It was the story of them all . . .
In the middle of the night, a woman wakes to find her beloved city engulfed in flames. Ten seemingly endless years of conflict between the Greeks and the Trojans are over. Troy has fallen.
From the Trojan women whose fates now lie in the hands of the Greeks, to the Amazon princess who fought Achilles on their behalf, to Penelope awaiting the return of Odysseus, to the three goddesses whose feud started it all, these are the stories of the women whose lives, loves, and rivalries were forever altered by this long and tragic war. 
A woman's epic, powerfully imbued with new life, A Thousand Ships puts the women, girls and goddesses at the center of the Western world's great tale ever told.
Praise for A Thousand Ships: A Novel
"With her trademark passion, wit, and fierce feminism, Haynes gives much-needed voice to the silenced women of the Trojan War. Her thoughtful portraits will linger with you long after the book is finished." — Madeline Miller, author of Circe
"A Thousand Ships does more than acknowledge the suffering of women. It tells in lively fashion gripping tales of bravery, treachery and revenge. . . . It's a timely notion as the modern world reckons with who gets to tell the stories of its diverse populations." — Washington Post
"In Natalie Haynes' own brilliant construction, the 10-year tale of the Trojan War is retold by the many women ignored, widowed, enslaved, heartbroken and snuffed out by the pride and stupidity of warring men…. A fresh and utterly satisfying feminist take on one of the oldest stories in Western literature." — Melissa Gray, NPR Best Books of the Year
"Savvy and well plotted.… Haynes's inventiveness in conjuring the lives of Greek and Trojan women through… evocative details keeps the novel humming." — New York Times Book Review
"Absorbing and fiercely feminist . . . this subversive re-seeing of the classics is a many-layered delight." — Guardian
"A witty, unapologetically feminist story of women's suffering, courage, and endurance… Haynes' freshly modern version of an ancient tale is perfect for our times." — Booklist
"An enthralling reimagining of the lives of women from both Troy and Greek culture. . . . Haynes shines by twisting common perceptions of the Trojan War and its aftermath in order to capture the women's experiences." — Publishers Weekly
"Clever and entertaining." — Times, UK
"Haynes is master of her trade . . . She succeeds in breathing warm life into some of our oldest stories." — Telegraph, UK
"This lively reinvention [of the Trojan War] is worth the journey." — Library Journal