Staff Pick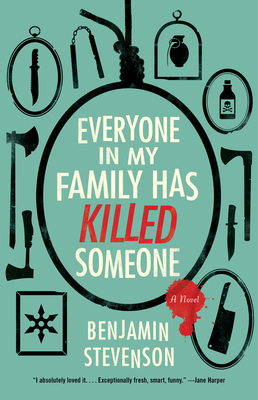 Everyone in My Family Has Killed Someone: A Novel
Publication Date:
January 17th, 2023
KD's Books
On hand, as of Sep 24 3:52am
(Mystery & Thriller )
On Our Shelves Now
Staff Reviews
Fans of the classic whodunnit style will enjoy this roller coaster ride with Ernest (Ernie) Cunningham and his delightfully dysfunctional family. Stevenson's conversational style and many twists will draw you in and keep you guessing until the very end. Everyone in his family has killed someone, he'll tell you that from page 1, but this is not a book about a bunch of monsters; this is a family that loves each other and sticks together against all outsiders. I absolutely loved this book and all its crazy characters!
— Nicole
This is the best mystery I've read. The narrator understood that just because he was telling the story, it didn't make the story about him. Every member of this family was given a story arc that also directly connected to the whole!So good!
February 2023 Indie Next List
Description
Knives Out and Clue meet Agatha Christie and The Thursday Murder Club in this "utterly original" (Jane Harper), "not to be missed" (Karin Slaughter), fiendishly clever blend of classic and modern murder mystery.
"A witty twist on classic whodunits… Stevenson not only 'plays fair,' he plays the mystery game very, very well." -- Maureen Corrigan, Washington Post
Everyone in my family has killed someone. Some of us, the high achievers, have killed more than once. I'm not trying to be dramatic, but it is the truth. Some of us are good, others are bad, and some just unfortunate.
I'm Ernest Cunningham. Call me Ern or Ernie. I wish I'd killed whoever decided our family reunion should be at a ski resort, but it's a little more complicated than that.
Have I killed someone? Yes. I have.
Who was it?
Let's get started.
EVERYONE IN MY FAMILY HAS KILLED SOMEONE
My brother
My stepsister
My wife
My father
My mother
My sister-in-law
My uncle
My stepfather
My aunt
Me
Praise for Everyone in My Family Has Killed Someone: A Novel
"A witty twist on classic whodunits… Stevenson not only 'plays fair,' he plays the mystery game very, very well." — Washington Post
"Exceptionally clever and amusing. ... Stevenson carries off this tour de force with all the aplomb of a master magician who conducts his tricks in plain view." — Publishers Weekly (starred review)
"I absolutely loved it. Utterly original, hugely entertaining, and a must-read for every fan of the mystery genre. What an exceptionally fresh, smart, funny book—I've never read anything like this before." — Jane Harper
"As fresh and zingy as a salted lime. It's Knives Out meets Richard Osman. Or Dexter by way of Agatha Christie. Or Schitt's Creek with a body count. It's also the most luxuriantly enjoyable novel I've read in years. And years. I began toting my copy around town so that strangers would ask me about it—who could resist that title? I only wish there were more members of the Cunningham clan, so that this raucous, matchlessly entertaining mystery could go on longer. Benjamin Stevenson, I've got a lot to learn from you." — AJ Finn
"A jaunty and clever mystery with unexpected twists. Absolutely not to be missed." — Karin Slaughter
"Clever." — USA Today
"I absolutely LOVED it. It's so engaging, entertaining and charming. I don't think I've ever read anything like it. It was SUCH a fun read."  — Marian Keyes
"An ingenious and hilarious meta-murder mystery." — Sunday Times (London), best crime of the year
"Resplendent in its sophisticated wit, characters with myriad motives and adroit plotting that indulges in clichés but manages to avoid the predictable. Stevenson also does the near impossible: he mixes the lightness of a cozy with the intensity of a hard-boiled thriller." — Shelf Awareness
"Exceedingly clever... Read it once for fun and then again to see how it was done." — CriminalElement.com
"Imaginative" — AARP Magazine
"Some readers are drawn to mysteries because they love the formula and logic—this one's for them. ... This book and its author are cleverer than you and want you to know it." — Kirkus Reviews