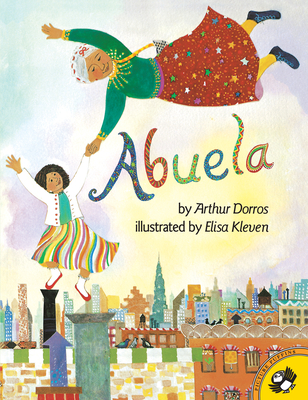 Abuela
Publication Date:
May 1st, 1997
Usually Ships Within a Week
Description
A young girl and her grandmother celebrate their home and relationship in this magical story. Winner of the Parents' Choice Award!
Come join Rosalba and her grandmother, her abuela, on a magical journey as they fly over the streets, sights, and people of New York City which sparkles below. The story is narrated in English, and sprinkled with Spanish phrases as Abuela points out places that they explore together. The exhilaration in Rosalba's and Abuela's story is magnified by the loving bond that only a grandmother and granddaughter can share.
Also available in a Spanish-language edition (ISBN: 978-0-14-056226-2)
"A book to set any child dreaming...any reader can handle it, whether familiar with Spanish or not. It's just joyful."-The New York Times

* "A marvelous balancing of narrative simplicity with visual intricacy...the city is transformed into a treasure trove of jewels, dazzling the eye, uplifting the spirits."–The Horn Book (starred review) 
* "Each illustration is a masterpiece of color, line, and form that will mesmerize youngsters...The smooth text, interspersed with Spanish words and phrases, provides ample context clues...a jewel."–Booklist (starred review)
"Dorros's text seamlessly weaves Spanish words and phrases into the English narrative, retaining a dramatic quality rarely found in bilingual picture books"—Publisher's Weekly 

An ALA Notable Book
An NCSS-CBC Children's Trade Book in the Field of Social Studies
A Library of Congress Children's Book of the Year
An American Booksellers Pick of the Lists selection
A Booklist Editor's Choice
A Horn Book Fanfare Listing
Winner of the Parent's Choice Award
A Hungry Mind Review Children's Books of Distinction List selection
A New York Public Library 100 Titles for Reading and Sharing selection

Praise for Abuela
Praise for Abuela
"A book to set any child dreaming...any reader can handle it, whether familiar with Spanish or not. It's just joyful."-The New York Times

* "A marvelous balancing of narrative simplicity with visual intricacy...the city is transformed into a treasure trove of jewels, dazzling the eye, uplifting the spirits."–The Horn Book (starred review) 
* "Each illustration is a masterpiece of color, line, and form that will mesmerize youngsters...The smooth text, interspersed with Spanish words and phrases, provides ample context clues...a jewel."–Booklist (starred review)
"Dorros's text seamlessly weaves Spanish words and phrases into the English narrative, retaining a dramatic quality rarely found in bilingual picture books"—Publisher's Weekly 

"Should prove useful not only for collections in which there is need for ethnic diversity, but also as enrichment for intellectually curious children who are intrigued by the exploration of another language."--School Library Journal

An ALA Notable Book
An NCSS-CBC Children's Trade Book in the Field of Social Studies
A Library of Congress Children's Book of the Year
An American Booksellers Pick of the Lists selection
A Booklist Editor's Choice
A Horn Book Fanfare Listing
Winner of the Parent's Choice Award
A Hungry Mind Review Children's Books of Distinction List selection
A New York Public Library 100 Titles for Reading and Sharing selection