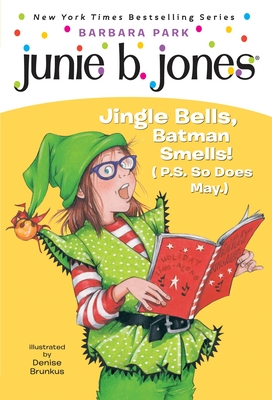 Junie B. Jones #25: Jingle Bells, Batman Smells! (P.S. So Does May.)
Publication Date:
September 22nd, 2009
Publisher:
Random House Books for Young Readers
Usually Ships Within a Week
Description
"Hilarious. Barbara Park makes reading fun." -Dav Pilkey, author of Dog Man
Celebrate Christmas with  the World's Funniest First Grader, Junie B, Jones! This #1 New York Times bestselling chapter book series has been keeping kids laughing—and reading—for more than twenty-five years with over 65 million copies sold!
It's holiday time, and Room One is doing lots of fun things to celebrate. Like making elf costumes! And singing joyful songs! Only, how can Junie B. enjoy the festivities when Tattletale May keeps ruining her holiday glee? And here is the worst part of all! When everyone picks names for Secret Santa, Junie B. gets stuck with Tattletale you-know-who! It's enough to fizzle your holiday spirit! Hmm . . . or is it? Maybe, just maybe, a Secret Santa gift is the perfect opportunity to give May exactly what she deserves.
Praise for Junie B. Jones #25: Jingle Bells, Batman Smells! (P.S. So Does May.)
From USA TODAY:
"Junie B. is the darling of the young-reader set."
From Publisher' Weekly:
"Park convinces beginning readers that Junie B.—and reading—are lots of fun."
From Kirkus Reviews:
"Junie's swarms of young fans will continue to delight in her unique take on the world....A hilarious, first-rate read- aloud."
From Booklist:
"Park, one of the funniest writers around . . . brings her refreshing humor to the beginning chapter-book set."
From Time magazine:
"Junie B. Jones is a feisty six-year-old with an endearing penchant for honesty."
From School Library Journal:
"Readers will relate instantly to the trials and tribulations of this first grader....She is always endearing and wonderfully funny."