Staff Pick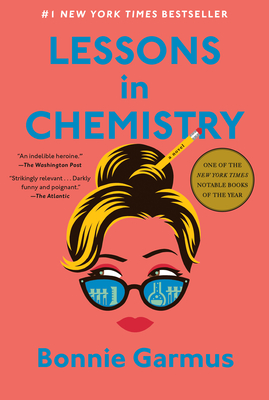 Lessons in Chemistry: A Novel
Publication Date:
April 5th, 2022
KD's Books
On hand, as of Dec 7 12:51pm
(Historical Fiction )
On Our Shelves Now
Staff Reviews
Great read! Showcases how far women have come in the science field...actually, in all fields. The book is set in the late 50's-60's when women were not treated as equals. The characters in the book are wonderful and quirky. Elizabeth Zott, the main character, is a role model for many women.
— Linda
Protagonist Elizabeth Zott's confrontations with 1960s patriarchy will resonate with women who lived it, but how she gets by while staying true to herself will inspire women of all ages. Read it — and give copies to all your friends!
April 2022 Indie Next List
Description
#1 NEW YORK TIMES BESTSELLER • GMA BOOK CLUB PICK • Meet Elizabeth Zott: "a gifted research chemist, absurdly self-assured and immune to social convention" (The Washington Post) in 1960s California whose career takes a detour when she becomes the unlikely star of a beloved TV cooking show. • STREAM ON APPLE TV+


This novel is "irresistible, satisfying and full of fuel" (The New York Times Book Review) and "witty, sometimes hilarious...the Catch-22 of early feminism" (Stephen King, via Twitter).

A BEST BOOK OF THE YEAR: The New York Times, Washington Post, NPR, Oprah Daily, Entertainment Weekly, Newsweek
Chemist Elizabeth Zott is not your average woman. In fact, Elizabeth Zott would be the first to point out that there is no such thing as an average woman. But it's the early 1960s and her all-male team at Hastings Research Institute takes a very unscientific view of equality. Except for one: Calvin Evans; the lonely, brilliant, Nobel–prize nominated grudge-holder who falls in love with—of all things—her mind. True chemistry results. 
But like science, life is unpredictable. Which is why a few years later Elizabeth Zott finds herself not only a single mother, but the reluctant star of America's most beloved cooking show Supper at Six. Elizabeth's unusual approach to cooking ("combine one tablespoon acetic acid with a pinch of sodium chloride") proves revolutionary. But as her following grows, not everyone is happy. Because as it turns out, Elizabeth Zott isn't just teaching women to cook. She's daring them to change the status quo.  
Laugh-out-loud funny, shrewdly observant, and studded with a dazzling cast of supporting characters, Lessons in Chemistry is as original and vibrant as its protagonist.
Praise for Lessons in Chemistry: A Novel
GOODREADS CHOICE AWARD WINNER • A BEST BOOK OF THE YEAR: The New York Times, Washington Post, NPR, Elle, Oprah Daily, Newsweek, GoodReads, Bookpage, Kirkus
ONE OF THE MOST ANTICIPATED BOOKS OF THE YEAR: The New York Times, Bustle, Real Simple, Parade, CNN, Today, E! News, Library Journal
"In Garmus's debut novel, a frustrated chemist finds herself at the helm of a cooking show that sparks a revolution. Welcome to the 1960s, where a woman's arsenal of tools was often limited to the kitchen—and where Elizabeth Zott is hellbent on overturning the status quo one meal at a time."
—The New York Times

"Strikingly relevant...Darkly funny and poignant...Lessons in Chemistry's excellent experiment [is] quirky and heartwarming."
—The Atlantic
"The most delightful novel I read this year—fresh and surprising—was Lessons in Chemistry: a fish-out-of-water story about a feminist hero who never stops pushing for what's right. (I laughed out loud!)"
—Philip Galanes, The New York Times

"Elizabeth Zott is going to be an important character to a lot of people . . . Absolute chemistry."
—Scott Simon, NPR
"An irresistible buoyancy, along with a deliberately sharp bite. Garmus's novel focuses on a female scientist whose ambitions are impeded—and then rerouted—by a world not yet ready for her."
—Frank Bruni, The New York Times
"[Garmus] delivers an assured voice, an indelible heroine and relatable love stories...At the center of the novel is Elizabeth Zott, a gifted research chemist, absurdly self-assured and immune to social convention...Elizabeth is a feminist and modern thinker […] in a world nowhere ready for her mind, character or ambition...[Garmus] charm[s]. She's created an indelible assemblage of stubborn, idiosyncratic characters. She's given us a comic novel at precisely the moment we crave one."
—Washington Post
"Feminism is the catalyst that makes [Lessons in Chemistry] fizz like hydrochloric acid on limestone. Elizabeth Zott does not have 'moxie'; she has courage. She is not a 'girl boss' or a 'lady chemist'; she's a groundbreaker and an expert in abiogenesis...To file Elizabeth Zott among the pink razors of the book world is to miss the sharpness of Garmus's message. Lessons in Chemistry will make you wonder about all the real-life women born ahead of their time—women who were sidelined, ignored and worse because they weren't as resourceful, determined and lucky as Elizabeth Zott. She's a reminder of how far we've come, but also how far we still have to go."
—New York Times Book Review

"Between the outrageous sexism and the bitter misfortune that thwart our heroine at every turn, this may not sound like a comic novel, but it is. Full of charm, energy and hope—and featuring a really great dog—it's one to savor." 
—People Magazine

"Darkly funny and poignant, Lessons in Chemistry paints an extraordinary portrait of an unusual life in 1960s California...Irresistible, a gorgeous tribute to resilience and the many types of love that sustain us."
—Oprah Daily
"A kicky debut, this book tackles feminism, resilience, and rationalism in a fun and refreshing way."
—BuzzFeed

"It's the world versus Elizabeth Zott, an extraordinary woman determined to live on her own terms, and I had no trouble choosing a side. Lessons in Chemistry is a page-turning and highly satisfying tale: zippy, zesty, and Zotty."
—Maggie Shipstead, author of Great Circle

"Lessons in Chemistry is a breath of fresh air—a witty, propulsive, and refreshingly hopeful novel populated with singular characters. This book is an utter delight—wry, warm, and compulsively readable."
—Claire Lombardo, author of The Most Fun We Ever Had

"On par with Beth Harmon of The Queen's Gambit, Elizabeth Zott swept me away with her intellect, honesty, and unapologetic selfhood. Lessons in Chemistry is a story for all the smart girls who refuse to dumb themselves down despite a culture that demands otherwise. Though a creation of the 50s & 60s, Zott is a feminist icon for our time."
—Rachel Yoder, author of Nightbitch

"A fun, feminist charmer, Bonnie Garmus's novel Lessons in Chemistry follows singular single mother Elizabeth Zott, a brilliant chemist in a man's world—1960s America—as she becomes an unlikely cooking-show host and the role model her daughter deserves."
—Martha Stewart Living

"[A] delightful debut...Elizabeth Zott, Garmus' unflappable heroine, is no cheerily lilting [Julia] Child...[Garmus] skillfully moves her narrative forward and backward, filling in the empty spaces in Elizabeth's story. It's a novel full of dark moments...and yet Lessons in Chemistry feels richly funny...Elizabeth Zott is a unique heroine, and you find yourself wishing she wasn't fictional: A lot of us—perhaps even Julia Child—might have enjoyed watching 'Supper at Six.'"
—The Seattle Times

"Lessons in Chemistry catalyzes science, cooking, and humor…Elizabeth [Zott]—determined, practical, uncompromising—shines brightest."
—Christian Science Monitor
"[Garmus] presents a rollicking feminist tale full of humor and hope even as she doesn't shy away from life's ugliness. Clever and sharp, Lessons in Chemistry has a winning formula."
—Minneapolis Star Tribune
"Find this runaway hit where history meets humor. The book follows a chemist in the 1960s who doesn't get the respect she deserves. Her life takes an unexpected turn when she becomes the host of a famous cooking show. With her platform, she encourages viewers to push the boundaries the same way she did at work."
—Today.com

"A bold, smart, and often hilarious look at the value of so-called women's work."
—Real Simple

"Garmus tells a familiar story in a completely original voice in her delightful debut novel...Zott is an unforgettable protagonist, logical and literal and utterly herself...The novel deftly mixes comedy and tragedy, with only one very clear villain: the patriarchal culture of mid-20th century America, the days of which are numbered because of women like Zott...For those who admire a confident, bone-dry, and hilarious authorial voice, this novel achieves the difficult task of being both sharply satirical and heartwarming at the same time."
—Historical Novels Review
"If you can imagine Julia Child channeling a little bit of Lucille Ball, and all of the science edginess of Madame Curie, then you'll have a really good idea of the humor and the wit and the warmth that just shine through this entire novel."
—Minnesota Public Radio News
"I loved it and am devastated to have finished it."
—Nigella Lawson, author of Cook, Eat, Repeat

"Garmus' writing is extraordinary, and her insightful commentaries on life, religion, bigotry, misogyny and stupidity result in passages that are absolutely worth sharing...Be prepared to laugh, grieve, and root for Elizabeth."
—BookReporter

"[An] energetic debut...A more adorable plea for rationalism and gender equality would be hard to find." 
—Kirkus (starred review)

"Indefatigable and formidable, Elizabeth pushes the bounds of how women and their work are perceived in this thoroughly engaging debut novel."
—Booklist
"Like a woman-centric "Mad Men"...A witty and sharp dramedy about resilience and found families...Readers won't be able to get enough of Elizabeth and her makeshift family. Lessons in Chemistry is a story to return to again and again." 
—BookPage
"While the novel focuses on serious themes of misogyny, feminism, family, and self-worth, it never gets didactic. The characters are rich and original, the story sarcastic and humorous, and the novel with all its twists and turns, difficult to put down. Zott is aloof and amazing, rational and revolutionary. Like Garmus, you may even find yourself channeling Elizabeth, asking 'Now what would Elizabeth Zott do?'"
—LA Daily News

"A smart, funny, big-hearted debut combining chemical elements into what seems a winning formula—one whose breakneck pace and gently ironic tone should appeal to readers of literary-commercial hits by American authors such as Katherine Heiny, Emma Straub and Curtis Sittenfeld."
—Sunday Times (UK)

"Elizabeth Zott is the smart, fierce star of Garmus's witty debut…Brilliant."
—Mail on Sunday (UK)
"The enchanting story of Elizabeth Zott never belittles the offence of sexism, but neither - miraculously - does it ever take you more than a few sentences away from a smile, a chuckle, or a laugh out loud. Bonnie Garmus' gift is to expose the sting and injustice of being a woman in a man's world with a feather light touch that keeps our spirits buoyant and our hearts strong. I honestly don't know how she does it. This is a remarkable book by a remarkable writer."
—Jo Browning Roe, author of A Terrible Kindness

"A fabulous novel. Compelling, satisfying, a real page-turner."
—Nina Stibbe, author of Reasons to Be Cheerful