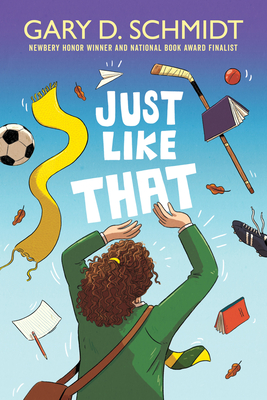 Just Like That
Publication Date:
January 5th, 2021
KD's Books
On hand, as of Dec 7 12:51pm
(Realistic Fiction )
On Our Shelves Now
Description
In this unforgettable, gently humorous novel, New York Times bestselling, award-winning author Gary D. Schmidt tells two poignant, linked stories: that of a grieving girl and a boy trying to escape his violent past.
Meryl Lee Kowalski is sent to a girls' boarding school in fall 1968 to move on from her grief over a close friend's death. Matt Coffin is on the run from a criminal gang, afraid that anyone he cares about is at risk. When their paths cross, the pair's connection begins to shape each of their lives. As their loneliness is gradually replaced by friendship, Meryl Lee finds unexpected allies and a sense of purpose, while Matt finds a new family and hope for the future.
This riveting novel is Wednesday Wars author Gary D. Schmidt at his best, weaving in powerful themes and raising tears and laughter in equal measure.
"Set in 1968, Just Like That is part of an outstanding series that began with Newbery Honor recipient The Wednesday Wars and continued in Okay for Now, a finalist for the National Book Award. While each book can be read separately, overlapping characters and themes enrich each other in understated and often profound ways." (BookPage starred review)
Praise for Just Like That
"An unforgettable story of loss, healing, and finding one's way." — Booklist (starred review)
"Alternating between poignant moments of humor, melancholy, and occasional suspense, Schmidt sensitively explores the various ways grief has of bringing people together." — Kirkus Reviews (starred review)
"Set in 1968, Just Like That is part of an outstanding series that began with Newbery Honor recipient The Wednesday Wars and continued in Okay for Now, a finalist for the National Book Award. While each book can be read separately, overlapping characters and themes enrich each other in understated and often profound ways. Just Like That is a riveting, award-worthy novel from a truly accomplished writer. Don't miss it." — BookPage
"[A] rich, humane tale." — Publishers Weekly