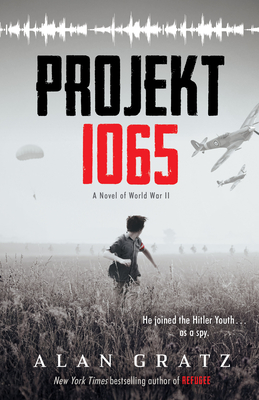 Projekt 1065: A Novel of World War II
Publication Date:
October 11th, 2016
Publisher:
Scholastic Press
KD's Books
On hand, as of Dec 7 12:51pm
On Our Shelves Now
Description
Award-winning, critically acclaimed author Alan Gratz (Prisoner B-3087) returns with another gripping World War II story, this time about a spy in the Hitler Youth.
Infiltrate. Befriend. Sabotage.World War II is raging. Michael O'Shaunessey, originally from Ireland, now lives in Nazi Germany with his parents. Like the other boys in his school, Michael is a member of the Hitler Youth.But Michael has a secret. He and his parents are spies. Michael despises everything the Nazis stand for. But he joins in the Hitler Youth's horrific games and book burnings, playing the part so he can gain insider knowledge. When Michael learns about Projekt 1065, a secret Nazi war mission, things get even more complicated. He must prove his loyalty to the Hitler Youth at all costs -- even if it means risking everything he cares about.Including... his own life.From acclaimed author Alan Gratz (Prisoner B-3087) comes a pulse-pounding novel about facing fears and fighting for what matters most.
Praise for Projekt 1065: A Novel of World War II
Praise for Projekt 1065:* "While the book is replete with fascinating historical insight, Gratz has also crafted a suspenseful mystery that will keep readers on the edge of their seats. With short, action-packed chapters, it is a great choice for reluctant readers as well... A winning combination of action, suspense, and historical setting." -- School Library Journal, starred review* "A rare insider's glimpse into the Hitler Youth: animated, well-researched, and thought-provoking." -- Kirkus Reviews, starred review"[A] high-action spy thriller." -- BooklistPraise for Prisoner B-3087:A Junior Library Guild SelectionGolden Sower Award, 2014-2015 Winner NebraskaIsinglass Teen Read Award, 2014-2015 Winner New HampshirePennsylvania Young Readers' Choice Award, 2014-2015 Winner PennsylvaniaJunior Book Award, 2015-2016 Winner South CarolinaGrand Canyon Reader Award, 2015-2016 Winner ArizonaTruman Readers Award, 2015-2016 Winner MissouriReaders Choice Awards, Winner 2015-2016 Virginia Volunteer State Book Award Winner, 2015-2016 Tennessee "A powerful story, well told." -- School Library Journal"A bone-chilling tale not to be ignored." -- Kirkus Reviews"[A] remarkable survival story." -- Booklist"Gratz ably conveys... fatalism, yearning, and determination in the face of the unimaginable." -- Publishers Weekly"Heartbreaking, gripping, raw, and emotional... storytelling at its finest." -- VOYAPraise for Code of Honor:"Readers will be swept up by both the intrigue and the rapid pacing... Kamran is a smart and sympathetic narrator, and readers will be happy to spend time with him in this action-packed thriller." -- Kirkus Reviews"Exciting, at times ripped from the headlines, and scary, this cinematic work has layers of intrigue and danger in each scene... will appeal to a variety of readers and will raise questions about patriotism, loyalty, and trust... A winner." -- School Library Journal"Vivid characters and timely topics, such as posttraumatic stress disorder, contribute to making Code of Honor a first-rate novel." -- VOYA
Praise for Projekt 1065:* "While the book is replete with fascinating historical insight, Gratz has also crafted a suspenseful mystery that will keep readers on the edge of their seats. With short, action-packed chapters, it is a great choice for reluctant readers as well... A winning combination of action, suspense, and historical setting." -- School Library Journal, starred review* "A rare insider's glimpse into the Hitler Youth: animated, well-researched, and thought-provoking." -- Kirkus Reviews, starred review"[A] high-action spy thriller." -- BooklistPraise for Prisoner B-3087:A Junior Library Guild SelectionGolden Sower Award, 2014-2015 Winner NebraskaIsinglass Teen Read Award, 2014-2015 Winner New HampshirePennsylvania Young Readers' Choice Award, 2014-2015 Winner PennsylvaniaJunior Book Award, 2015-2016 Winner South CarolinaGrand Canyon Reader Award, 2015-2016 Winner ArizonaTruman Readers Award, 2015-2016 Winner MissouriReaders Choice Awards, Winner 2015-2016 Virginia Volunteer State Book Award Winner, 2015-2016 Tennessee "A powerful story, well told." -- School Library Journal"A bone-chilling tale not to be ignored." -- Kirkus Reviews"[A] remarkable survival story." -- Booklist"Gratz ably conveys... fatalism, yearning, and determination in the face of the unimaginable." -- Publishers Weekly"Heartbreaking, gripping, raw, and emotional... storytelling at its finest." -- VOYAPraise for Code of Honor:"Readers will be swept up by both the intrigue and the rapid pacing... Kamran is a smart and sympathetic narrator, and readers will be happy to spend time with him in this action-packed thriller." -- Kirkus Reviews"Exciting, at times ripped from the headlines, and scary, this cinematic work has layers of intrigue and danger in each scene... will appeal to a variety of readers and will raise questions about patriotism, loyalty, and trust... A winner." -- School Library Journal"Vivid characters and timely topics, such as posttraumatic stress disorder, contribute to making Code of Honor a first-rate novel." -- VOYA