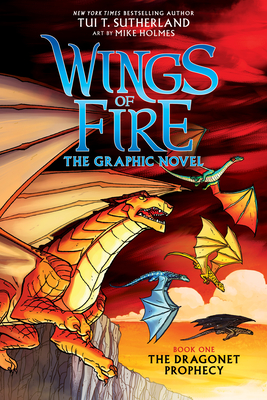 Wings of Fire: The Dragonet Prophecy: A Graphic Novel (Wings of Fire Graphic Novel #1) (Wings of Fire Graphix #1)
Publication Date:
January 2nd, 2018
Usually Ships Within a Week
Description
The first-ever graphic novel based on the first book in the New York Times bestselling Wings of Fire series.
Not every dragonet wants a destiny . . . Clay has grown up under the mountain, chosen along with four other dragonets to fulfill a mysterious prophecy and end the war between the dragon tribes of Pyrrhia. He's not so sure about the prophecy part, but Clay can't imagine not living with the other dragonets; they're his best friends. So when one of the dragonets is threatened, all five spring into action. Together, they will choose freedom over fate, leave the mountain, and fulfill their destiny -- on their own terms.The New York Times bestselling Wings of Fire series takes flight in this first graphic novel edition, adapted by the author with art by Mike Holmes.
Praise for Wings of Fire: The Dragonet Prophecy: A Graphic Novel (Wings of Fire Graphic Novel #1) (Wings of Fire Graphix #1)
Praise for The Dragonet Prophecy (Wings of Fire, Book 1):"Dramatic battle scenes, double-crosses, and one seriously deranged queen makes WINGS OF FIRE a series that should have broad appeal for middle-grade fantasy fans." -- Booklist"Fast-paced and detailed, this first installment in a new adventure series is entertaining." -- Kirkus Reviews"Readers of all ages will be enchanted by the humanistic storyline and the page-turning excitement." -- Library Media Connection"A thrilling new series for dragon-lovers." -- Austin Family
Praise for The Dragonet Prophecy (Wings of Fire, Book 1):"Dramatic battle scenes, double-crosses, and one seriously deranged queen makes WINGS OF FIRE a series that should have broad appeal for middle-grade fantasy fans." -- Booklist"Fast-paced and detailed, this first installment in a new adventure series is entertaining." -- Kirkus Reviews"Readers of all ages will be enchanted by the humanistic storyline and the page-turning excitement." -- Library Media Connection"A thrilling new series for dragon-lovers." -- Austin Family