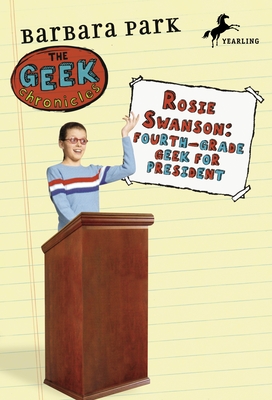 Rosie Swanson: Fourth-Grade Geek for President (Geek Chronicles #2)
Publication Date:
September 15th, 1992
KD's Books
On hand, as of May 30 9:51am
On Our Shelves Now
Description
Vote for Rosie!
Sure, she wears geeky-looking glasses and she tattles on her classmates. But, hey, snitching has its good side. Thanks to Rosie, Ronald Milligan has stopped blowing his nose in the water fountain. And now, Rosie is determined to do even more for her classmates -- by becoming president of the fourth grade!
With the help of her two best (and only) friends, Rosie devises a brilliant campaign to defeat the two most popular kids in her class: soccer star Alan Allen and model-wannabe Summer Lynne Jones. But when despicable Alan steals Rosie's unbeatable campaign slogans, it's time to watch out! Nosy Rosie is on the warpath!
Praise for Rosie Swanson: Fourth-Grade Geek for President (Geek Chronicles #2)
"Park, as usual, is right on target with kids' problems, and Rosie learns some pretty tough things about friendship and popularity. With thoroughly believable characters and plenty of laugh-out-loud lines, her experience makes for a very good read."--Booklist