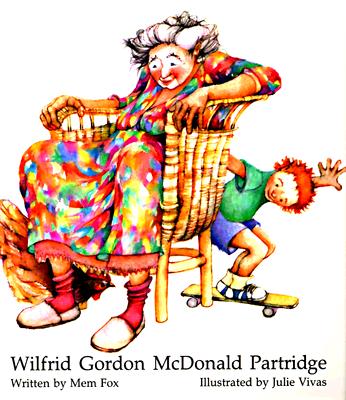 Wilfrid Gordon McDonald Partridge (Public Television Storytime Books)
Publication Date:
September 1st, 1985
Publisher:
Kane/Miller Book Publishers
KD's Books
On hand, as of Dec 2 12:51pm
(Families & Relationships )
On Our Shelves Now
Description
In this very special story, Wilfrid Gordon helps his 96-year-old friend, Miss Nancy, regain some of her memories. Beloved Australian author Mem Fox wrote Wilfrid Gordon McDonald Partridge in the hope of bringing children and the elderly together and it remains a modern-day classic, used in homes, classrooms and even training sessions for volunteers who work with the elderly.
Praise for Wilfrid Gordon McDonald Partridge (Public Television Storytime Books)
"Wilfrid's quest is one of the most endearing I can think of in a picture book. ... Fox's tender narrative is bound to touch your heart, making you want to both laugh and cry at various moments in the story. But, Vivas's illustrations are just as delightful and endearing. Take some time as you read to notice the emotions and details that she manages to put into these relatively simple pages."
-- Children's Lit Love⠀⠀⠀⠀⠀⠀⠀⠀⠀
"The illustrations splashy, slightly hazy watercolors in rosy pastels contrast the boy's fidgety energy with his friends' slow, careful movements and capture the story's warmth and sentiment."
-- School Library Journal
"A wonderful tale that celebrates both the exuberance of childhood and the dignity of old age."
-- A Boston Sunday Globe
"…a tremendous story of empowerment.… Setting the story in an old folks' home does much to dispel the view of these homes in a negative light.… Watercolor illustrations are softly and beautifully done."
-- KidLit
"Wilfrid Gordon McDonald Partridge is everything a children's book should be. It was a classic the day it was first published, and will be a classic decades from now.… The physical attractiveness, the tasty words, the rhythm and the message all make this a book every child - and adult - should read."
-- Our Alzheimer's
"There's a special kind of magic in the story of friendship between a young boy (with a big name) and his 96-year old friend in Wilfrid Gordon McDonald Partridge (Kane Miller)."
-- Reading Rockets
"…a fine example of the best of what Children's Literature has to offer us. Originally published in 1989, it has withstood the test of time, and will remain to delight and teach children for generations to come."
-- If the book fits…Read it
"Tender, heartwarming and perfectly wrought in every way, it's no wonder librarians have been recommending this wonderful book for more than two decades."
-- Lehigh Valley Express-Times
"For a topic often spoken of in euphemism, the author has displayed warmth, wit and dignity without being sappy. The spongeable cover and dreamy watercolors complement this uplifting tale."
-- The Los Angeles Times
"...heart warming...a beautiful story of love and respect for your elder."
-- Kristi's Book Corner
"...a tear-worthy tale of joy, wisdom and loss."
-- scrumdilly-do!
"...a sweet intergenerational story that you don't want to miss."
-- Proper Noun
"This may just be my favorite picture book ever. I discovered it during grad school when I worked at a children's bookstore, and it was love at first read. I don't think I have ever once read it without tearing up.... It's a beautiful book, and true in the way that sometimes only fiction is."
-- Melissa Wiley