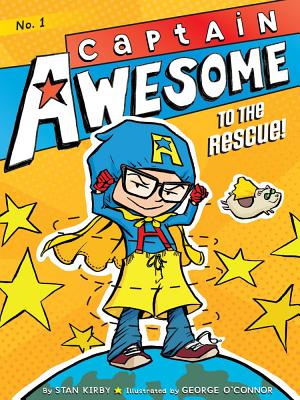 Captain Awesome to the Rescue!
Publication Date:
April 3rd, 2012
KD's Books
On hand, as of Dec 2 12:51pm
On Our Shelves Now
Description
Bad guys beware! Eugene McGillicudy just happens to be the most awesome superhero of all time…Captain Awesome. MI-TEE!
Now readers between the ages of five and seven can read chapter books tailor-made for a younger level of reading comprehension. Heavily illustrated with large type, Little Simon's young chapter books let young readers feel like they are reading a "grown-up" format with subject, text, and illustrations geared specifically for their own age groups!
Eight-year-old Eugene McGillicudy is an imaginative boy who loves comic books and superheroes. Eugene also has his very own supersecret superhero alter ego named Captain Awesome. MI-TEE!
When the McGillicudy family relocates to a new town called Sunnyview, Eugene starts a new school, finds a best friend, and even finds time to defend his toys from his two-year-old little sister, Molly! Luckily for Sunnyview, Captain Awesome is there to protect the town (and the universe) from a hilarious cast of comical "bad guys."
With easy-to-read language and illustrations on almost every page, the Captain Awesome chapter books are perfect for beginning readers.
Praise for Captain Awesome to the Rescue!
CAPTAIN AWESOME TO THE RESCUE! [STARRED REVIEW!]
Author: Kirby, Stan
Illustrator: O'Connor, George
Review Issue Date: February 1, 2012
Online Publish Date: January 18, 2012
Publisher:Little Simon/Simon & Schuster
Pages: 128
Price ( Hardcover ): $14.99
Price ( Paperback ): $5.99
Publication Date: April 3, 2012
ISBN ( Hardcover ): 978-1-4424-4090-6
ISBN ( Paperback ): 978-1-4424-3561-12
Category: Fiction
The town of Sunnyview got a little bit safer when 8-year-old Eugene McGillicudy moved in.
Just like his comic-book mentor, Super Dude, Eugene, aka Captain Awesome, is on a one-man mission is to save the world from supervillains, like the nefarious "Queen Stinkypants from Planet Baby." Just as Eugene suspected, plenty of new supervillains await him at Sunnyview Elementary. Are Meredith Mooney and the mind-reading Ms. Beasley secretly working together to try and force Eugene to reveal his secret identity? Will Principal Brick Foot succeed in throwing Captain Awesome into the "Dungeon of Detention?" Fortunately, Eugene isn't forced to go it alone. Charlie Thomas Jones, fellow comic-book lover and Super Dude fan, stands ready and willing to help. When the class hamster goes missing, Captain Awesome must don his cape and, with the help of his new best friend, ride to the rescue. Kirby's funny and engaging third-person narration and O'Connor's hilarious illustrations make the book easily accessible and enormously appealing, particularly to readers who have recently graduated to chapter books. But it is the quirky, mischievous Eugene that really makes this book special. His energy and humor are contagious, and his dogged commitment to his superhero alter ego is enough to make anyone a believer.
As Captain Awesome would say, this kid is "MI-TEE!" (Fiction. 5-8)
Kirkus Reviews, February 1, 2012
Captain Awesome to the Rescue!.
Kirby, Stan (Author) , O'Connor, George (Illustrator)
Apr 2012. 128 p. Simon & Schuster/Little Simon, hardcover, $14.99. (9781442440906). Simon &
Schuster/Little Simon, paperback, $4.99. (9781442435612).
In this series starter, eight-year-old Eugene McGillicudy, aka self-proclaimed Captain Awesome, is new to town, and he is determined to keep everyone safe from Baron Von Booger and Dr. Spinach and to protect his secret lair from nemesis Queen Stinkypants from Planet Baby (i.e., his toddler sister). But school is off to a rocky start—teacher Ms. Beasley is potentially a mind reader (how does she know his name?), and he is targeted by mean girl Meredith. On the upside, he meets a possible new sidekick named Turbo, the class hamster, and Charlie, a fellow superhero fan. But when Turbo vanishes, it's up to Captain Awesome—and Charlie—to find him. The peppy narrative has a comic book–like melodramatic, hyperbolic flair, which conveys both Eugene's reality (including fitting in and finding friends) and his humorous view of the world. Large, wide-spaced text, short chapters, and interspersed simple black-and-white cartoonish drawings are new-reader friendly, though occasional invented words add zing but can be unwieldy (gigantist, enormondoist). Overall, this is a fun, accessible read for comics buffs and aspiring superheroes of the everyday kind.
--Booklist, April 1, 2012
Captain Awesome to the Rescue!
Stan Kirby, illus. by George O'Connor. S&S/Little Simon, $14.99 (128p) ISBN 978-1-4424-3561-2
The all-too-perfectly named Kirby (alluding to comic book giants Stan Lee and Jack Kirby) kicks off an early chapter book series that introduces eight-year-old Eugene McGillicudy, who views life through the lens of comics and believes himself to be a superhero: Captain Awesome. "That's one of the cool things about being a superhero," Eugene says. "You get to pick your own name." Dressed in his superhero finest (a hoodie, a pair of shorts outside his pants, and a towel cape), Captain Awesome sees villains everywhere: his baby sister is Queen Stinkypants; his teacher Ms. Beasley becomes Miss Beastly; and class meanie Meredith is dubbed Little Miss Stinky Pinky. O'Connor (Kapow!) opens each chapter with crayoned cartoons "drawn" by Eugene that, along with more polished spot art—complete with sound effects like "Bonk!" "Pow!" and "MI-TEE!" (Captain Awesome's superhero rally call)—bring Eugene's imagined feats of daring to life, as he investigates the disappearance of class pet Turbo the hamster. Action, comedy, and hyperbole should easily hook readers, especially those who share Eugene's love of comics. Simultaneously available: Captain Awesome vs. Nacho Cheese Man. Ages 5–7.
--Publishers Weekly, March 26, 2012