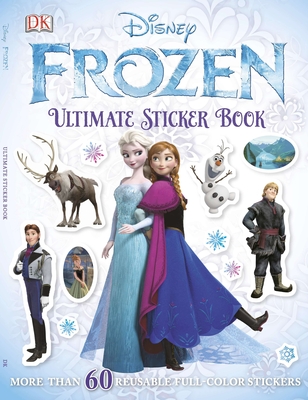 Ultimate Sticker Book: Frozen: More Than 60 Reusable Full-Color Stickers
Publication Date:
October 1st, 2013
Usually Ships Within a Week
Description
Featuring more than 60 colorful and reusable stickers, this sticker book allows fans of the hit Disney movie Frozen to play and learn more about their favorite characters including Elsa, Anna, and Olaf.
Follow fun-loving Princess Anna as she embarks on an adventure to find her sister Queen Elsa in Ultimate Sticker Book: Disney Frozen. Meet her friends Olaf the snowman and Kristoff the ice harvester as they journey across the kingdom of Arendelle.
Ultimate Sticker Book: Disney Frozen features all the memorable characters, key locations, and iconic moments from the movie. With beautiful bright stickers and lively and informative captions, this ultimate sticker book is a must-have companion to Disney's Frozen.
Taking subjects that kids love, from dinosaurs to baby animals to transportation, DK's Ultimate Sticker Book series is packed with activities that are simple enough for children to do independently, but engaging enough to keep their interest. The series format helps develop dexterity, making these books products parents can trust, and ones that kids will want to keep picking up to learn more about their favorite subjects.
© 2017 Disney