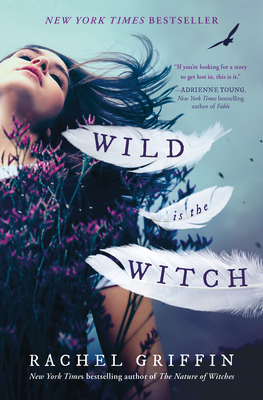 Wild is the Witch
Publication Date:
August 2nd, 2022
Publisher:
Sourcebooks Fire
KD's Books
On hand, as of Dec 7 12:51pm
(Fantasy )
On Our Shelves Now
I love this second novel by Rachel Griffin. An emotional story about guilt, regret, and vulnerability with incredible storytelling and rich descriptions! Love the magic and the animals and the cozy feeling — like walking out in the woods.
September/October 2022 Kids Indie Next List
Description
From the New York Times bestselling author of The Nature of Witches comes an immersive, enemies-to-lovers contemporary fantasy standalone.
After a night of magic turns deadly, Iris Gray vows to never let another person learn she's a witch. It doesn't matter that the Witches' Council found her innocent or that her magic was once viewed as a marvel—that night on the lake changed everything. Now settled in Washington, Iris hides who she really is and vents her frustrations by writing curses she never intends to cast. And while she loves working at the wildlife refuge she runs with her mother, she loathes Pike Alder, the witch-hating aspiring ornithologist who interns with them.
When Pike makes a particularly hurtful comment, Iris concocts a cruel curse for him. But just as she's about to dispel it, an owl swoops down and steals the curse before flying far away from the refuge. The owl is a powerful amplifier, and if it dies, Iris's dark spell will be unleashed not only on Pike but on everyone in the region.
Forced to work together, Iris and Pike trek through the wilderness in search of the bird that could cost Pike his life. But Pike doesn't know the truth, and as more dangers arise in the woods, Iris must decide how far she's willing to go to keep her secrets safe.
Praise for Wild is the Witch
"A contemporary fantasy brimming with tremendous empathy for the natural world and all its creatures. The moody Pacific Northwest is the perfect setting for this book, a romantic adventure mixed with some of the cleverest magic I've read in a long time. Iris, Pike, and MacGuffin the owl stole my heart—I loved getting lost in the woods with them." — Rachel Lynn Solomon, NYT bestselling author of See You Yesterday
"This fantasy novel draws readers into an atmospheric trek...bound to engage readers with its warmth, vivid portrayals of outdoor settings, and romantic spark" — School Library Journal
"A strikingly tender enemies-to-lovers romance told in the cozy love language of warm fires, s'mores and small acts of kindness, juxtaposed with wild magic and a treacherous hunt through the ethereal woods of the Pacific Northwest. I devoured every word of this rich and emotive novel." — Julia Ember, author of Ruinsong and The Seafarer's Kiss duology
"Griffin is a masterful storyteller that uses all five senses to draw the reader into a rich emotional landscape. Using the Pacific Northwest as a backdrop, Griffin never forgets to remind you of the magic of nature as Iris and Pike figure out the truth about each other. Wild is the Witch is magical, romantic, atmospheric, and beautifully written. All things we are learning are the hallmarks of Griffin's work." — Kristin Dwyer, author of Some Mistakes Were Made
"Rachel Griffin is, without a doubt, one of YA's greatest new auto-buy authors. Wild is the Witch is a deeply atmospheric and emotionally raw story about forgiveness, vulnerability, and learning to move forward through pain. Griffin's books feel like slipping on a cozy sweater and settling in to enjoy a cup of tea on a foggy day. Even the darkest and most vulnerable scenes are filled with a profound sense of hopefulness that has become such an intricate part of the author's brand. Everyone should add this to their TBR, stat." — Adalyn Grace, NYT bestselling author of All the Stars and Teeth
"The narrative balances both action and emotion, anchoring familiar elements of survival stories... the driving force here is the romantic relationship between Pike and Iris, and readers will root for their enemies-to-lovers journey to have a happy close
" — The Bulletin of the Center for Children's Books
"A genre-blending confection that pulls off a young adult enemies-to-lovers trope well" — Midwest Book Review
"A page-turner that combines magic, nature and romance" — Youth Services Book Review