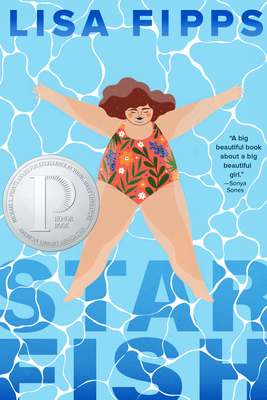 Starfish
Publication Date:
May 2nd, 2023
Publisher:
Nancy Paulsen Books
KD's Books
On hand, as of Dec 7 12:51pm
(Realistic Fiction )
On Our Shelves Now
Witty, poignant, and deeply moving, Starfish should be mandatory reading for anyone who has ever been made to feel inferior because of something they cannot change. In a story told in free verse, Lisa Fipps gives her protagonist, Ellie, a voice as big and as boundlessly beautiful as she is.
Spring 2021 Kids Indie Next List
Description
A Printz Honor Winner!
Ellie is tired of being fat-shamed and does something about it in this highly acclaimed debut novel-in-verse.
Ever since Ellie wore a whale swimsuit and made a big splash at her fifth birthday party, she's been bullied about her weight. To cope, she tries to live by the Fat Girl Rules—like "no making waves,"  "avoid eating in public," and "don't move so fast that your body jiggles." And she's found her safe space—her swimming pool—where she feels weightless in a fat-obsessed world. In the water, she can stretch herself out like a starfish and take up all the room she wants. It's also where she can get away from her pushy mom, who thinks criticizing Ellie's weight will motivate her to diet. Fortunately, Ellie has allies in her dad, her therapist, and her new neighbor, Catalina, who loves Ellie for who she is. With this support buoying her, Ellie might finally be able to cast aside the Fat Girl Rules and starfish in real life—by unapologetically being her own fabulous self.
Praise for Starfish
"In her debut novel, Starfish, Lisa Fipps confronts diet culture and fat phobia head-on. . . .  The book reads as if Ellie herself is writing these poems, which are accessible and engaging."—The New York Times Book Review
* "Fipps bursts onto the middle-grade scene with her debut, a verse novel that shines because of Ellie's keen and emotionally striking observations. As she draws readers in with her smart and succinct voice, Ellie navigates the difficult map of knowing she deserves better treatment while struggling with the conflict that's necessary to achieve it. Fipps hands her young narrator several difficult life lessons, including how to self-advocate, how not to internalization of the words of others, and what it means to defend yourself. Ellie's story will delight readers who long to see an impassioned young woman seize an unapologetic victory."—Booklist, starred review
* "Fipps' verse is skillful and rooted in emotional reality. The text places readers in Ellie's shoes, showing how she is attacked in many spaces—including by strangers on public transit—while clearly asserting that it's other people who need to change. . . . Make room in your heart for this cathartic novel"—Kirkus Reviews, starred review
* "Affirming representation of fatness. . . . Fipps's use of verse is as effective as it is fitting; Ellie dreams of becoming a storyteller and poet 'to help people feel what it's like/ to live in/ someone else's skin.' A triumphant and poignantly drawn journey toward self-acceptance and self-advocacy."—Publishers Weekly, starred review
* "A charming novel in verse about a girl struggling with self-worth. . . . Once readers start, it will be difficult for them to put this book down. Ellie's story is heartbreaking and raw at times, and Fipps paints a realistic picture of bullying in a world that equates thinness with beauty. . . . True joy comes in watching Ellie gain confidence in herself and standing up to the bullies, even when they're family. . . . A must-have for libraries serving teens and tweens."—School Library Journal, starred review

"In this free-verse novel, Fipps is laceratingly authentic about the kind of 'teasing' and 'help' that Ellie is constantly subject to, and the family dynamic, wherein her father dislikes her mother's treatment but rarely intervenes, is sadly believable. . . The intense focus mirrors a lot of experience, and readers will be glad to see Ellie eventually 'starfishing—starting to claim my right to take up space.'"—The Bulletin of the Center for Children's Books
"This beautiful, heartbreaking, and powerful novel-in-verse would pair well with media literacy lessons on body imagery, bullying, and victim shaming. The story is very engaging and readers will not want to put it down. School guidance counselors, school psychologists, and social workers will appreciate the realistic portrayal of Ellie's therapist and the benefits of therapy for children and adults."—School Library Connection
"Ellie's simple and powerful free-verse poems intensify her emotional turmoil and smoothly destroy stereotypes ('They think I'm unhappy / because I'm fat. / The truth is, / I'm unhappy because / they bully me / about being fat'). Her strength in accepting herself and learning to defy her Fat Girl Rules is an inspiring reminder to all readers that they deserve to 'take up space.'"—Horn Book
"Readers will rejoice as Ellie gains the strength to confront bullies with intelligence and honesty, and refuses to allow other people's cruelty to shape her life."—Padma Venkatraman, award-winning author of The Bridge Home
"This is a big beautiful book about a big beautiful girl. Meet Ellie, who looks in the mirror and sees someone lovable. Now, if only the rest of the world (and especially her own mother and brother) could see what Ellie sees. This is a story about the colossal cruelty that's hurled at her because of her weight, and how, with colossal strength, Ellie manages to triumph. An honest, heartbreaking, hilarious novel-in-verse from a debut author with a delicious voice."—Sonya Sones, author of What My Mother Doesn't Know
"Lisa Fipps's spot-on verse gives Ellie a wrenchingly real voice that sings with humor, pain, and hope. Prepare yourself: Once you read this book, your heart will never be the same." —K. A. Holt, author of House Arrest