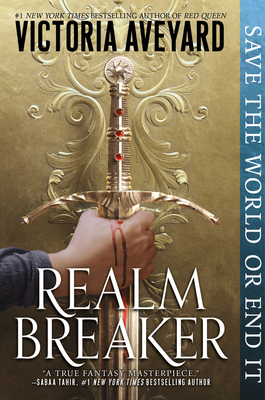 Realm Breaker
Publication Date:
May 31st, 2022
KD's Books
On hand, as of Dec 7 12:51pm
(Fantasy )
On Our Shelves Now
A high stakes tale filled with everything you could want in a book: pirates, assassins, knights, magic, and the fate of the realm in the hands of unwilling heroes. Set in an enticing and dangerous land, an unlikely group is thrown together to take on a nigh impossible task so thrilling, I was unable to put this book down.
May/June 2021 Kids Indie Next List
Description
Instant #1 New York Times Bestseller! 
"A true fantasy masterpiece." —Sabaa Tahir, #1 New York Times bestselling author
The Queen of Fantasy strikes again! This stunning new series from Victoria Aveyard, the #1 New York Times bestselling author of the Red Queen series is a high-voltage, high-stakes adventure where kingdoms hang in the balance and betrayal is only a breath away.
A strange darkness grows in Allward even Corayne an-Amarat can feel it in her small town at the edge of the sea. The long lost heir to an ancient lineage, it's not until Corayne meets a rag-tag group of companions that she learns how to wield the magic slumbering in her blood—and how together they might stop what's coming.
From her seat on the throne, Queen Erida has one aim: build a kingdom worthy of her destiny. While her court hopes to marry her off, Erida will do anything she can to avoid losing her crown—and her freedom. No matter the cost.
Meanwhile, shadowy corpse armies march the hillsides and dangerous beasts creep through fissures in the world, and a great evil grows stronger by the day. As the realm descends into chaos, the choices are clear: Save the world…or end it.
Realm Breaker is the first book in an epic series, told in multiple-POV chapters that follow an irresistible cast of characters through an incredibly imagined world, with action-packed adventure and lethal twists you won't see coming, perfect for fans of Leigh Bardugo and Tolkien himself.
Don't miss Blade Breaker, the #1 New York Times bestselling sequel to Realm Breaker. 
Praise for Realm Breaker
"The entire time I was reading REALM BREAKER, I wanted one thing: for the book to never end. It is classic yet groundbreaking, romantic yet edgy, a rollicking adventure that carries you along at a relentless pace. A true fantasy masterpiece."  — Sabaa Tahir, #1 New York Times bestselling author of the An Ember in the Ashes series. 
"Set in a sprawling world of warring empires and hair-raising magic that any reader would want to get lost in, REALM BREAKER is a fantasy fan's dream, injected with Aveyard's trademark action, heart, and razor-sharp characters." — Roseanne A. Brown, New York Times Bestselling Author of A Song of Wraiths and Ruin
"Realm Breaker is the kind of book you take with you to your favorite reading chair. The world is rich and built with deep care; the characters are complex and flawed; the story is filled with the kind of sweeping scale that fantasy does best. This is a new classic."  — Marie Lu, #1 New York Times bestselling author of Skyhunter
An enthralling adventure, a richly imagined world, and the most impossible odds combine to make Realm Breaker an addictive, tightly-paced gem of a book. Readers will delight in Aveyard's bewitching new beginning, all at once epic in scope and intimate in detail. It's the adventure I was desperate to go on as a teenager and the kind of story I eagerly devour as an adult. — Emma Theriault, author of Rebel Rose
"There are a wide variety of action scenes, daring escapes, and betrayals…exquisite descriptions and clashing motivations result in a nuanced, sprawling realm. An epic series opener of old-school high fantasy catering to modern audiences." — Kirkus Reviews
"Like Aveyard's hit Red Queen books, this series starter is a hefty tome with well-mapped details of lands, monsters, and people. Rotating narrators keep the story fresh and leave readers wanting more." — Booklist
Praise for the Red Queen series:     "Aveyard's "little lightning girl" remains a relatable and deeply flawed heroine... Aveyard adeptly sets the scene for a fourth book to follow, amid a war not yet won." — Publishers Weekly
"Another devastating cliff-hanger ending will leave readers hungry for the final volume." — Booklist
"Simmering with internal conflict and well-devised courtly scheming." — Kirkus Reviews
"Breakneck pace and engaging characters." — School Library Journal
PRAISE FOR RED QUEEN:   "A sizzling, imaginative thriller, where romance and revolution collide, where power and justice duel. It's exhilarating. Compelling. Action-packed. Unputdownable."
— USA Today
"Aveyard weaves a compelling new world of action-packed surprises... inventive, character-driven."
— Kirkus Reviews
"A volatile world with a dynamic heroine." — Booklist
"[Aveyard] sets her audience up for a gaspworthy twist that reconfigures nearly every character's role and leaves Mare with no one to trust but herself... This blend of fantasy and dystopia will be an unexpected and worthy addition to many genre fans' reading list."
— Bulletin of the Center for Children's Books
"Fascinating world building... Readers will be intrigued by a world that reflects today's troubling issues concerning ethnic inequality, unfair distribution of wealth, pollution, warfare, political corruption, and the frightening power of the media."
— Voice of Youth Advocates (VOYA)
PRAISE FOR GLASS SWORD:   "High-stakes excitement and sharp plot twists… make this a fast-paced, exciting read and a thrilling sequel."
— Booklist
"Aveyard certainly has a flair for the dramatic, which teens will eat up. The action hits the ground running and doesn't stop until after the last page is turned." — School Library Journal
"Fast-paced and action packed, Glass Sword is compelling and strong, guaranteed to gratify anxious readers of the series and fans of dystopian and fantasy literature." — Voice of Youth Advocates (VOYA)