Staff Pick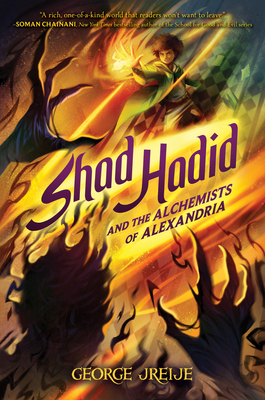 Shad Hadid and the Alchemists of Alexandria
Publication Date:
October 4th, 2022
KD's Books
On hand, as of Sep 24 3:52am
(Fantasy )
On Our Shelves Now
Staff Reviews
I loved getting to visit Shad's magical world! Or...is it actually magic? You'll find out! If you've every been picked on, if you have ever lost someone, you will definitely identify with this new hero. But Shad never gives up, and he introduces us to a rich world set in the lost library of Alexandria, where he and his classmates will have to battle some super-sneaky necromancers!
— Nicole
Description
You are invited to the Alexandria Academy . . .
Twelve-year-old Shad Hadid has never quite fit in. The other kids at school don't understand him, so he spends most of his time alone, cooking for his teta and daydreaming of opening his own Arabic bakery full of tasty treats. But when Shad is attacked by a shadowy monster, he learns his late baba was an alchemist with the ability to mix charms, elixirs, and mists—and he's one too!
Then Shad receives an invitation to the mysterious Alexandria Academy, a fabled school for alchemists, where he hopes he'll find safety and learn more about the ancient science. But when he arrives, no one at the school seems to know what alchemy is! As Shad digs deeper into the mystery, he discovers a sinister evil lurking in the shadows, and only he holds the key to stopping—or fulfilling—their plans.
With danger at every turn and the fate of the alchemy world on the line, can Shad save his friends and defeat this sinister foe?
Praise for Shad Hadid and the Alchemists of Alexandria
"Alexandria Academy offers a fresh take on magic schools with dark secrets, and Shad and his friends, most of whom are Middle Eastern and North African, are engaging. A refreshing adventure featuring family, friendship, and the power of creating new recipes." — Kirkus Reviews
"A magical and enthralling adventure. George Jreije conjures a truly magnificent tale of intrigue, loss, humor, and, most importantly, the courage of a young boy to fully recognize his potential as a powerful alchemist. I can't WAIT for Arab boys to get the representation they deserve!"  — Jamar J. Perry, author of Cameron Battle and the Hidden Kingdoms
"In this action-packed, funny, heartfelt story, Shad stands up to everyone from middle school bullies to necromancers. Here comes a brave new hero that kids will adore!" — Katie Zhao, author of The Dragon Warrior and the Winnie Zeng series
"Shad pulls readers in with his sharp wit and delicious baked goods, taking them on an action-packed adventure filled with intrigue and hijinks. Get ready to dive into the immersive world of alchemy!" ? — Adrianna Cuevas, author of the Pura Belpré Honor book The Total Eclipse of Nestor Lopez. 
"Shad Hadid is a hero unlike any other. His journey of friendship and self-discovery satisfied me as much as a good dessert."
— Sarah Kapit, author of Get a Grip, Vivy Cohen!
"A heartfelt adventure rooted deeply in culture, Shad Hadid tugged at my heartstrings, made me laugh, and dazzled me with the ultra cool magic-science of alchemy!" — Xiran Jay Zhao, #1 NYT Bestselling Author of the Iron Widow and Zachary Ying series
"Shad Hadid and the Alchemists of Alexandria is a heart-warming, mouth-watering tale packed to the brim with humor, action, and culinary delights. Alchemizing the magic school trope with traditional Lebanese culture, author George Jreije creates a rich one-of-a-kind world that readers won't want to leave. Like a delicious home-cooked meal, this book is straight from the heart, a touching tale about family and friendship that is sure to resonate with children and parents alike." — Soman Chainani, author of The School for Good and Evil
"This fast-paced middle-grade fantasy from debut author Jreije introduces an immediately likable protagonist in Shad, whose humor and love for his family resonate throughout the novel and whose interest in baking is delightful as well as useful. . . Readers will long to return to the Alexandria Academy." — Booklist
"A warm addition to the magical school genre, this duology opener foregrounds developing friendships among the mostly Arab or North African student body, Shad's pride in his heritage and talents, and above all, his funny, sensitive voice." — Publishers Weekly