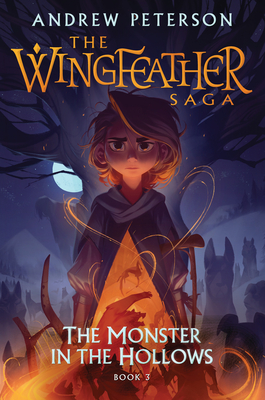 The Monster in the Hollows: The Wingfeather Saga Book 3
Publication Date:
October 6th, 2020
KD's Books
On hand, as of Dec 7 12:51pm
(Fantasy )
On Our Shelves Now
Description
PUBLISHERS WEEKLY BESTSELLER • Things are about to go from bad to wolf in the howlingly entertaining third book of the Wingfeather Saga, with more than one million copies sold!
NOW AN ANIMATED SERIES • Based on Andrew Peterson's epic fantasy novels—starring Jody Benson, Henry Ian Cusick, and Kevin McNally. Executive Producer J. Chris Wall with Shining Isle Productions, and distributed by Angel Studios.

Janner, Tink, and Leeli Igiby, the Lost Jewels of Anniera, are hiding from Gnag the Nameless in the Green Hollows, one of the few places in the land of Aerwiar not overrun by the Fangs of Dang. But there's a big problem. Janner's little brother—heir to the throne of Anniera—has grown a tail. And gray fur. Not to mention two pointed ears and long, dangerous fangs. To the suspicious folk of the Green Hollows, he looks like a monster.
But Janner knows better. His brother isn't as scary as he looks. He's perfectly harmless. Isn't he?
Full of characters rich in heart, smarts, and courage, The Monster in the Hollows is a tale children of all ages will cherish, families can read aloud, and readers' groups are sure to enjoy discussing for its many layers of meaning. Extra features include new interior illustrations from Joe Sutphin, funny footnotes, a map of the fantastical world, inventive appendices, and fanciful line art in the tradition of the original Frank L. Baum Wizard of Oz storybooks.
Praise for The Monster in the Hollows: The Wingfeather Saga Book 3
Praise for the Wingfeather Saga
"I love all the adventure and the wild inventiveness and, most of all, the heart in Andrew's books. He is a poet and a master storyteller. I want to read anything he writes."—Sally Lloyd-Jones, New York Times best-selling author of children's books
 
"An experience your family will never forget. I can't recommend these books highly enough!"—Sarah Mackenzie, author of The Read-Aloud Family and founder and host of the Read-Aloud Revival podcast
 
"The Wingfeather Saga is witty, imaginative, and full of heart. Highly recommended for middle-grade readers who've run out of Narnia novels and are searching for their next great series."—Anne Bogel, creator of the Modern Mrs. Darcy blog and host of the What Should I Read Next? podcast
 
"A wildly imaginative, wonderfully irreverent epic that shines with wit and wisdom—and features excellent instructions on how to cope with thwaps, Fangs, and the occasional toothy cow."—Allan Heinberg, writer and coexecutive producer of ABC's Grey's Anatomy and cocreator of Marvel Comics' Young Avengers
 
"Immensely clever!"—Phil Vischer, creator of VeggieTales