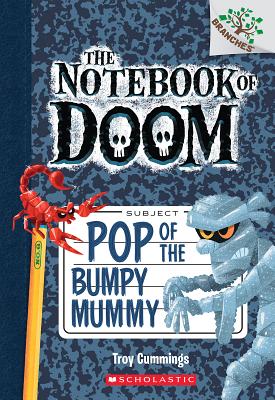 Pop of the Bumpy Mummy: A Branches Book (The Notebook of Doom #6)
Publication Date:
December 30th, 2014
Publisher:
Scholastic Inc.
KD's Books
On hand, as of Dec 7 12:51pm
On Our Shelves Now
Description
A creepy mummy monster is on the loose in Stermont!
This series is part of Scholastic's early chapter book line called Branches, which is aimed at newly independent readers. With easy-to-read text, high-interest content, fast-paced plots, and illustrations on every page, these books will boost reading confidence and stamina. Branches books help readers grow!In this sixth book, Alexander's class goes on a field trip to the history museum. The students have been learning about the legend of the bumpy mummy in class. But then Alexander thinks he sees the REAL bumpy mummy walking around! The famous Ruby Scorpion gets stolen from the museum, too! And what are those strange popping noises?! Alexander and his friends will have to work fast to stop Stermont's latest monster!
Praise for Pop of the Bumpy Mummy: A Branches Book (The Notebook of Doom #6)
Praise for THE NOTEBOOK OF DOOM #1: RISE OF THE BALLOON GOONS"Cranking up the horrorlarity with googly eyed cartoon figures and sight gags on nearly every page, Cummings pitches his nervous but resourceful newcomer into a climactic, all-out battle with an entire army of aggressive, air-stealing bendy balloons.... An unusually promising series opener for proto-Goosebumps fans." -KIRKUS REVIEWSPraise for THE EENSY WEENSY SPIDER FREAKS OUT!"Clever text full of witty asides." -SCHOOL LIBRARY JOURNALPraise for MORE BEARS!"[Artwork that is] infused with zaniness of fun." -SCHOOL LIBRARY JOURNAL
Praise for THE NOTEBOOK OF DOOM #1: RISE OF THE BALLOON GOONS"Cranking up the horrorlarity with googly eyed cartoon figures and sight gags on nearly every page, Cummings pitches his nervous but resourceful newcomer into a climactic, all-out battle with an entire army of aggressive, air-stealing bendy balloons.... An unusually promising series opener for proto-Goosebumps fans." -KIRKUS REVIEWSPraise for THE EENSY WEENSY SPIDER FREAKS OUT!"Clever text full of witty asides." -SCHOOL LIBRARY JOURNALPraise for MORE BEARS!"[Artwork that is] infused with zaniness of fun." -SCHOOL LIBRARY JOURNAL