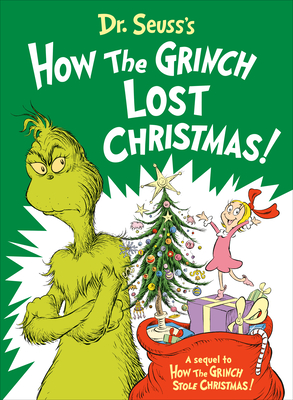 Dr. Seuss's How the Grinch Lost Christmas! (Classic Seuss)
Publication Date:
September 5th, 2023
Publisher:
Random House Books for Young Readers
Usually Ships Within a Week
Description
NEW YORK TIMES BESTSELLER • The Grinch is BACK and ready to prove to the residents of Who-ville that he's changed. This heartwarming sequel is written and illustrated in the style of Dr. Seuss's beloved holiday classic How the Grinch Stole Christmas!
The Grinch had been patiently waiting all year,
To celebrate Christmas and bring the Whos cheer,
And to show every Who he was DIFFERENT now.                         
"I've changed!" thought the Grinch,                                           
"And I'll prove it! But HOW?" 
A year has passed since the Grinch stole Christmas from Who-ville. Now eager to prove to the Whos that his heart has grown to LOVE the holiday, the Grinch devises a plan to win Who-ville's Christmas Crown by making the largest, most spectacular Christmas tree the Whos have ever seen! 
But when things don't go as planned, the Grinch's heart turns ice cold, and he threatens to leave Who-ville for good...until one small, special Who reminds him that Christmas is NOT about winning.
Grow your heart three sizes MORE with this sequel to the timeless picture book How the Grinch Stole Christmas! Featuring a foil-enhanced jacket and full-color illustrations rendered in the iconic style of the original, this new story makes a splendid gift and a must-have addition to the libraries of Grinch fans of all ages!
Praise for Dr. Seuss's How the Grinch Lost Christmas! (Classic Seuss)
"A serviceable sequel and a cute Christmas story." —School Library Journal