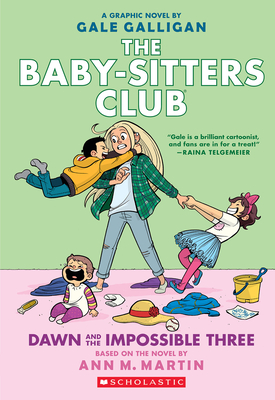 Dawn and the Impossible Three: A Graphic Novel (The Baby-Sitters Club #5) (The Baby-Sitters Club Graphix)
Publication Date:
April 4th, 2023
Description
A graphic novel adapted and illustrated by New York Times and USA Today bestselling author Gale Galligan!
Dawn Schafer is the newest member of The Baby-sitters Club. Even though she's still adjusting to life in Stoneybrook after moving from sunny California, she's eager to accept her first big job. But taking care of the three Barrett kids would be too much for any baby-sitter. The house is always a mess, the kids are out of control, and Mrs. Barrett never does any of the things she promises. On top of all that, Dawn wants to fit in with the other members of the BSC, but she can't figure out how to get along with Kristy. Was joining The Baby-sitters Club a mistake?
Praise for Dawn and the Impossible Three: A Graphic Novel (The Baby-Sitters Club #5) (The Baby-Sitters Club Graphix)
Praise for the BSC Graphic Novels:
New York Times Bestselling Series
USA Today Bestselling Series
"I've been a fan of Gale Galligan's work for years. They're a brilliant cartoonist, and BSC Graphix fans are in for a treat! Gale brings an amazing sense of whimsy, warmth, and humanity to everything they touch, and I couldn't be more thrilled to have them take the baton Ann M. Martin so graciously handed to me a decade ago. Get ready for more dibbly-fresh Baby-sitters Club graphic novels, and get ready to say hello to Gale!" -- Raina Telgemeier, #1 New York Times bestselling author
"Relying on a bright palette and close-ups of the expressive, large-eyed characters, Galligan easily shifts between giggles with friends and more emotional scenes, always retaining the upbeat, earnest tone of the original... While this title is bound to attract fans of the series, newcomers will eagerly dive right in." -- School Library Journal
"The artist adds abundant energy to the pages and, largely through amusingly exaggerated facial expressions, ably captures each character's personality." -- Publishers Weekly
"Crisp and spot on." -- Booklist
"Unique and original." -- Voice of Youth Advocates