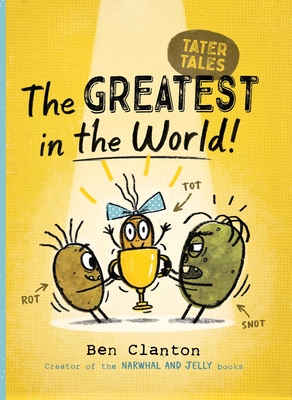 The Greatest in the World! (Tater Tales #1)
Publication Date:
November 8th, 2022
Publisher:
Simon & Schuster Books for Young Readers
KD's Books
On hand, as of Dec 7 12:51pm
(Fantasy )
On Our Shelves Now
Description
Two spud siblings face off in a series of epic challenges in this first "delightful laugh-on-every-page" (Booklist) installment of a hilariously silly graphic novel chapter book series from the bestselling creator of the Narwhal and Jelly books.
Rot is a mutant potato who wakes up feeling great, maybe even…the greatest in the world! But that only makes Rot's brother Snot the grumpiest in the world. The only solution? An epic contest to prove who is the greatest once and for all, judged by the only impartial party they can find—their small fry little sister, Tot.
But as the stakes get higher through the muddy potato sack race, sacred hot potato roll, and a hilarious laughing contest, their rivalry spirals out of control. Suddenly Rot's not feeling so spudtacular anymore. Will this tater trio ever be able to determine who the greatest in the world really is?
Praise for The Greatest in the World! (Tater Tales #1)
"Delightfully goofy...Clanton, of Narwhal and Jelly fame, brings puns aplenty to this starchy offering, and the characters here have a bit more of a mischievous bite to them than the underwater crew of those titles....Fans of Clanton's other duo will be glad to meet this trio of tubers."
— Bulletin of the Center for Children's Books 
"Chock-full of spudtacular puns and a feel-good surprise ending, Clanton offers a delightful laugh-on-every-page early chapter book for kids ready to tackle longer stories but with very simple text and visual context clues. The graphic novel elements interspersed throughout the standard illustrated text will hold great appeal for young readers."
— Booklist
"Comically emphatic dialogue, wry narrator commentary, and raucous mixed-media cartooning—including potato stamps—depicts the one-spudmanship. ...Extending his impressive track record of funny geniality, Clanton renders the characters with earnest expressions"
— Publisher's Weekly
"Just as silly and ­appealing as Narwhal and Jelly....An excellent addition where early reader graphic novels are popular (that is, ­everywhere)"
— School Library Journal
Mutant potato brothers Rot and Snot have a competition to decide who is the greatest in the world, to be judged by their little sister, Tot. When neither a potato sack race nor a game of hot potato produces a winner, they have a laugh-off, with an unexpected result. Potato puns abound in "spudtacular" fashion, and Clanton's characters have many more expressions than Mr. and Mrs. Potato Head. ­Enthusiastic early riser Rot is medium-sized and brownish, grumpy Snot is larger and greener, and "super chipper." Tot is the smallest, with yellowish skin and a blue and white polka-dotted bow (which matches the endpapers). Five short chapters, ­followed by "Spudtacular Facts and Fun," introduce readers to Clanton's new characters, who are just as silly and ­appealing as Narwhal and Jelly. Back matter includes ­step-by-step instructions for how to draw Rot. ­
VERDICT An excellent addition where early reader graphic novels are popular (that is, ­everywhere).–Jenny Arch
— School Library Journal
"This tater trio, and worm, will keep readers laughing, singing, and cheering from the first page to the last."
— Kirkus Reviews