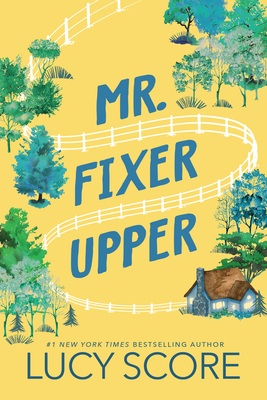 Mr. Fixer Upper
Publication Date:
October 10th, 2023
KD's Books
On hand, as of Dec 7 12:51pm
On Our Shelves Now
Description
From the #1 New York Times bestselling author of Things We Never Got Over
He started to work the laces of his boots loose. Toeing them off, he tugged his t-shirt over his head.
"Oh my God. What are you doing?" Paige's voice barely rose above the spray from the showerhead.
"I'm washing your damn hair."
It's a constant battle on set between sexy home renovation reality TV star grumpy Gannon King and his no-nonsense field producer. Paige St. James has zero time for temperamental talent.
Mr. Sex in a Toolbelt has made it his mission in life to get a rise out of her, but Paige is a master at locking down her temper. They're on the road together working long hours fixing houses and changing lives. When cracks in her legendary coolness start to show and sparks fly, Gannon is infatuated and the cameras are there to capture it.
But he's fallen for a pretty face before and Paige won't be taken seriously if she's caught sleeping with the star of her show. She also can't seem to resist those big, rough hands. Those smoldery hazel eyes. The dimples. The toolbelt. That fiercely protective vibe.
Too bad it's all about to fall apart.
She never should have trusted him.
He never should have let her go.
Author's Note: A protective grumpy hero, a not easily impressed heroine, the worst human being on TV ever, a grand gesture so big you'll need a box of tissues, and THAT SHOWER SCENE.