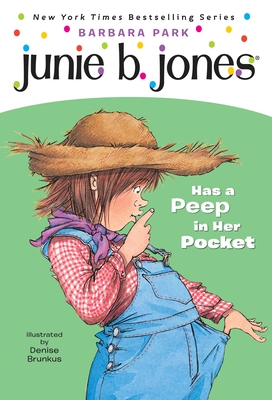 Junie B. Jones #15: Junie B. Jones Has a Peep in Her Pocket
Publication Date:
May 23rd, 2000
Publisher:
Random House Books for Young Readers
Usually Ships Within a Week
Description
"Hilarious. Barbara Park makes reading fun." —Dav Pilkey, author of Dog Man
 
Visit the farm with the world's funniest Kindergartener—Junie B. Jones! This #1 New York Times bestselling chapter book series has been keeping kids laughing—and reading—for more than twenty-five years with over 65 million copies sold!

It's almost the end of the school year, and Room Nine is taking a field trip to a farm! There's lots of fun farm stuff there. Like a real actual barn. And a real actual farmer. There's even real alive animals you can pet! Only, where's the gift shop? That's what Junie B. Jones would like to know. Surely no one would want Junie B. to go home empty-handed. . . .
Praise for Junie B. Jones #15: Junie B. Jones Has a Peep in Her Pocket
From USA TODAY:
"Junie B. is the darling of the young-reader set."
From Publisher' Weekly:
"Park convinces beginning readers that Junie B.—and reading—are lots of fun."
From Kirkus Reviews:
"Junie's swarms of young fans will continue to delight in her unique take on the world....A hilarious, first-rate read- aloud."
From Booklist:
"Park, one of the funniest writers around . . . brings her refreshing humor to the beginning chapter-book set."
From Time magazine:
"Junie B. Jones is a feisty six-year-old with an endearing penchant for honesty."
From School Library Journal:
"Park is truly a funny writer. Although Junie B. is a kindergartner, she's sure to make middle graders laugh out loud."