Discounted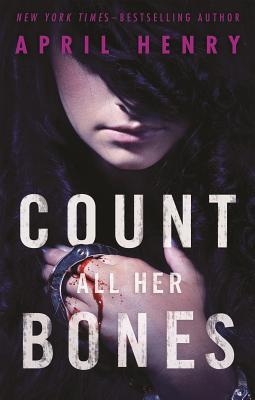 Count All Her Bones (Girl, Stolen #2)
Previous price:

$12.99
Current price:

$10.99
Publication Date:
May 8th, 2018
KD's Books
On hand, as of Dec 7 12:51pm
(Mystery & Thriller )
On Our Shelves Now
Description
A teen girl sets out to save her former captor in this much-anticipated sequel to the young adult thriller Girl, Stolen
Six months ago, Griffin Sawyer meant to steal a car, but he never meant to steal the girl asleep in the backseat. Panicked, he took her home. His father, Roy, decided to hold Cheyenne—who is blind—for ransom. Griffin helped her escape, and now Roy is awaiting trial. As they prepare to testify, Griffin and Cheyenne reconnect and make plans to meet. But the plan goes wrong and Cheyenne gets captured by Roy's henchmen—this time for the kill. Can Cheyenne free herself? And is Griffin a pawn or a player in this deadly chase?
April Henry masterminds another edge-of-your-seat thriller in Count All Her Bones.
A Christy Ottaviano Book
"Providing plenty of background for anyone who did not read the first book, this novel offers action, with a disabled protagonist heading the white cast of characters. Cheyenne's blindness makes her an out-of-the-ordinary thriller star, particularly when emotions like confusion and self-doubt are shown, helping readers get under her skin. . . . Readers will be rooting for Cheyenne and Griffin from the edges of their seats." —Kirkus Reviews
More heart-pounding thrillers from April Henry:
The Girl I Used to Be
The Girl Who Was Supposed to Die
The Night She Disappeared
Girl, Stolen
The Point Last Seen series:
The Body in the Woods
Blood Will Tell
Praise for Count All Her Bones:
"A thrill ride . . .Part thriller, part romance, part adventure . . .Cheyenne a fierce, female protagonist to root for." —VOYA
"A pulse-pounding sequence . . . Readers will be rooting for Cheyenne and Griffin from the edges of their seats." —Kirkus Reviews
"This book offers the same suspense and tightly paced action as its predecessor . . . , this volume stands on its own and should be considered for any YA collection looking for contemporary suspense titles." —School Library Journal
"An exciting and satisfying conclusion to Cheyenne and Griffin's story." —Booklist
Praise for Girl, Stolen:
"Be ready to be startled and inspired as the story reaches its climax. Readers will race to the end." —The Strand Magazine
"The pace is impeccable, becoming rapidly more frantic as Cheyenne realizes her chances for success are dwindling. In addition, the premise itself is powerfully realistic and compelling, with one small incident (Griffin's jumping into a car that had the keys in the ignition) snowballing into a nightmare series of events that will change everyone." —BCCB
"Henry (Torched) spins a captivating tale that shifts between Cheyenne's and Griffin's thoughts. Both are well-built, complex characters, trapped in their own ways by life's circumstances, which--paired with a relentlessly fast pace--ensures a tense read." —Publishers Weekly
"Readers will be hard-pressed to put this one down before its heart-pounding conclusion." —School Library Journal
"Spine-tingling…Reminiscent of Gail Giles' thrillers and tension-filled to the last sentence, Girl, Stolen will resonate with readers long after the cover is closed. With a thoughtful and eye-opening look at disabilities, it highlights Cheyenne and Griffin's resourcefulness and resiliency as they save themselves--and possibly each other." —BookPage
"Thoroughly exciting." —Booklist
"Grabs your attention with the first page you read. . . . Each page holds new questions that are answered in the most unexpected ways." —VOYA, 5Q review
Praise for Count All Her Bones (Girl, Stolen #2)
Praise for Count All Her Bones:
"A thrill ride . . .Part thriller, part romance, part adventure . . .Cheyenne a fierce, female protagonist to root for." —VOYA
"A pulse-pounding sequence . . . Readers will be rooting for Cheyenne and Griffin from the edges of their seats." —Kirkus Reviews
"This book offers the same suspense and tightly paced action as its predecessor . . . , this volume stands on its own and should be considered for any YA collection looking for contemporary suspense titles." —School Library Journal
"An exciting and satisfying conclusion to Cheyenne and Griffin's story." —Booklist
Praise for Girl, Stolen:
"Be ready to be startled and inspired as the story reaches its climax. Readers will race to the end." —The Strand Magazine
"The pace is impeccable, becoming rapidly more frantic as Cheyenne realizes her chances for success are dwindling. In addition, the premise itself is powerfully realistic and compelling, with one small incident (Griffin's jumping into a car that had the keys in the ignition) snowballing into a nightmare series of events that will change everyone." —Bulletin of the Center for Children's Books
"Henry (Torched) spins a captivating tale that shifts between Cheyenne's and Griffin's thoughts. Both are well-built, complex characters, trapped in their own ways by life's circumstances, which--paired with a relentlessly fast pace--ensures a tense read." —Publishers Weekly
"Readers will be hard-pressed to put this one down before its heart-pounding conclusion." —School Library Journal
"Spine-tingling…Reminiscent of Gail Giles' thrillers and tension-filled to the last sentence, Girl, Stolen will resonate with readers long after the cover is closed. With a thoughtful and eye-opening look at disabilities, it highlights Cheyenne and Griffin's resourcefulness and resiliency as they save themselves--and possibly each other." —BookPage
"Thoroughly exciting." —Booklist
"Grabs your attention with the first page you read. . . . Each page holds new questions that are answered in the most unexpected ways." —VOYA, 5Q review