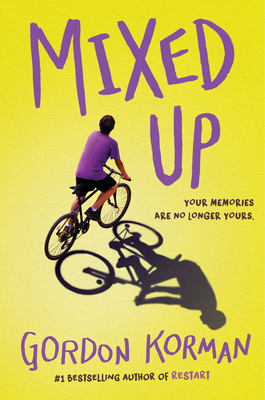 Mixed Up
Publication Date:
July 18th, 2023
Publisher:
Scholastic Press
KD's Books
On hand, as of Dec 7 12:51pm
On Our Shelves Now
Description
From the author of Restart, the story of two boys who are losing their memories... to each other.
Reef and Theo don't know what's happening to them. They'll be going about their days and then suddenly they'll have these strange flashes of memory -- but the memories don't belong to them. And at the same time, their own memories are starting to... vanish.
For Reef, this is a big problem, because memories are all he has left of his mom.
For Theo, it's strange because the new memories give him a freedom he doesn't have with his domineering dad.
Praise for Mixed Up
Praise for War Stories:
* "This weave of perceptive, well-told tales wears its agenda with unusual grace." -- Kirkus Reviews, starred review
Praise for Restart:
* "A fresh approach to the familiar topic of bullying, kept credible by believable characters and events, with typical Korman humor and just the right touch of mystery." -- School Library Journal, starred review
Praise for Slacker:
"Upbeat, inspiring, and full of Korman's signature sense of humor." -- Publishers Weekly
"Korman makes comedy look deceptively easy." -- Booklist
Praise for Swindle:
"Scary, funny, and hysterical adventures!" -- Chicago Tribune
"Pure fun from top to bottom." -- School Library Journal
Praise for The Hypnotists:
"Fast-paced... an entertaining mix of intense action and goofy fun." -- Publishers Weekly
Praise for Ungifted:
"A gem for readers looking for a book where the underdog comes out on top." -- Voice of Youth Advocates
"Funny and insightful." -- Publishers Weekly
Praise for Schooled:
* "This rewarding novel features an engaging main character and some memorable moments of comedy, tenderness, and reflection." -- Booklist, starred review